Finally, I found a few minutes to get this post together. By minutes I really mean a couple hours because I tend to over analyze and want things a certain way. I have a seven page review sheet for a quiz on Monday waiting for me...so it was a welcomed distraction. Plus I loved the book so it's always fun re-visiting a loved one.
Proximity
M.A. George
Book Blurb
Dr. Palta Capal would be a typical American career woman…if only she were human.
She has found her calling in this world as a physician. It's an ideal outlet for her compassionate spirit...and unearthly healing powers.
Palta may spend her nights rereading Jane Austen novels, but she deliberately avoids pursuing her own love story. Human men—attractive as they may be—inevitably grow old and wither, leaving her to grieve in solitude. Frankly, no one has seemed worth the torment.
Enter Eric Moran, the intensely attractive and enigmatic new coworker on the scene. With his quiet confidence and warm smile, he manages to draw Palta's attention. Little does she know that he, too, holds a secret…one that will propel them both into an escalating collision of two worlds.
My Review
5 Stars
If I were to talk to Proximity (yes, I am referring to the book), then "You had me at hello" would be one of the first things out of my mouth. Followed by a few "How could you," "What on earth was that? Are you trying to stop my heart?" and quite a few high fives. The first line of chapter one was a definite hooker, it even made me giggle. Which makes the ending one the sinker because at that point, I was completely hooked and engaged.
*My yes, yes that really just happened, she really took it there face*
In the first chapter alone I highlighted six different things! I rarely highlight much in a book until I'm at least halfway through it. But in Proximity, M.A. George fills the pages with an engaging first person narrative with short vivid descriptions and fills it with personality so you can already see Palta's story beginning to unfold. There aren't a plethora of unnecessary words telling you important details, everything is shown to you through her use of witty dialogue and candid descriptions. For example when Palta starts talking about her hair, the tone is just what you'd expect. "It has the look of perpetual bed head, even after meticulous application of product and skillful use of a blow dryer and straightening iron." I was a fan of Palta within seconds; after all we're both fluent in sarcasm.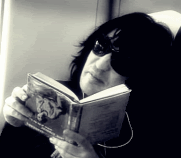 Proximity's wide cast of characters breathe life into the plot and keep it moving smoothly until the bitter end. I only say bitter because it ended and I was not okay with being on the last page already. Once Palta finishes introducing you to her family and Eric (the super deliciously sexy smart man that's unaware of her existence) everything starts to happen very fast. Proximity's filled with surprises and moments where you'll stop reading to think over what really just happened. I chose to tweet M.A. George my moments of sheer surprise but other than that, I couldn't stop reading it. The dialogue between Sabella (Palta's sister), their father and her show a strong family dynamic and create a great foundation for Palta's story, helping you understand why she wants to find her place in the world. A lot of the most heart clenching moments occur when she's thinking about her family in the beginning until Eric takes the crown half-way through while he's working toward redemption. (No, I cannot elaborate without spoilers and I had strong feelings about this situation so I would most likely ramble until someone stopped me.)
**I'm serious when I mentioned I was mad at Eric. I sincerely wished to slap him**
However, there was a moment where for me he redeemed himself and boy it was sweet. Highlighted and tweeted. I was very interactive during this book, I couldn't help myself. So I found fans who understood what I was going through. With that being said I did feel like the romance between Eric and Palta was quick, it wasn't forced and considering how fast the story was moving, it made sense. Plus they got points since they did share some disagreements and conflict of ideas, instead of the instant "yes, anything you say" syndrome some female characters suffer from.
M.A. George blended just the right amount of sci-fi and romance together to create a compelling debut novel that leaves readers needing the second installment in the series immediately. She developed a complex world that's unique to Proximity and a different planet from Earth altogether impeccably. They have their own language, government system, way of living and are frankly more advanced in certain areas. M.A. George introduces everything with smooth descriptions throughout the book without overwhelming readers and enabling you to envision the ships, buildings and what it must be like to live there without the story ever taking place there. I enjoyed every minute of reading Proximity and found myself rooting for Palta (and Eric after he earned redemption) throughout the entire novel, biting my nails, squealing in delight/amusement and gasping is surprise/shock and eagerly turning every page.
Thanks for visiting and I hope you enjoy the journey Proximity takes you on like I did. :)
Proximity (The Proximity Series) Amazon
Barnes&Noble Link