Ashley Wilcox had me at hello and will have me forever as a fan. Promising Forever is a great addition to her Forever series and I'm always excited to read a new release from her. Promising Forever made my day.
Promising Forever
Ashley Wilcox
**When I saw this as her cover photo saying now available my heart skipped a beat and I danced**
Book Synopsis
** Promising Forever is a continuation of The Forever Series. It is recommended that you read Planning on Forever and Waiting on Forever prior to this novella. **
After an emotional break-up with his high school sweetheart, Collin doubted he would ever find love again.
Until he met Summer.
What started out as just a friendship, blossomed into something so much more.
Love.
Just when plans were slowly starting to take shape in their relationship, Summer's father became terminally ill, forcing Collin to make a life altering decision. His answer was to marry her before it was too late and give Summer a dream wedding with her father by her side.
Follow the reunion of friends, the planning, and everything in between, leading up to the day.
The wedding of Collin and Summer.
My Review
5 Stars
I had no idea this book was even available yet until this morning when I happened to notice Ashley Wilcox changed her cover photo on facebook. Yes, I'm aware how stalkerish that sounds but for me Ashley Wilcox's forever series made me a believer in romance. It was never a genre I seeked books out in. Don't get me wrong, I'm all about a little romance being mixed in with a paranormal scheme but after reading an ARC of Waiting on Forever my opinion changed. I believe in romance and have read quite a few romance novels since then. I love Ashley Wilcox and have the utmost respect for her as a writer since she can twist my heart and soul into knots with nothing but a little romance.
Promising Forever is the story of Summer and Collin's wedding weekend which if that's not enough to make your heart melt, all your favorite characters from the first two novels make guest appearances. Matt, Leah, Travis, Kenzi and we even get a glimpse of Alexa and Nolan over the course of the weekend. After reading Waiting on Forever, I knew I had to know more of Summer and Collin. I needed more of their story and Promising Forever delivered everything I could have hoped for. My breath was taken away again and again. Ashley Wilcox twisted my heart and filled me with such anticipation I couldn't stop reading!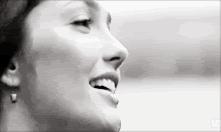 (There's so much passion behind Ashley Wilcox's words and characters, they're impossible not to get lost in. I could envision every moment of their wedding weekend and feel their love. Plus I love the way Collin has such confidence in what he feels for Summer and when seducing her <3)
The love Summer and Collin have for each other is undeniable and Promising Forever is written in such a way that their love almost becomes tangible. You can feel it with each turn of the page, every time their points of view change and you're given a deeper glimpse of their true emotions and you can't help but get attached all over again. I love that Ashley Wilcox can manage to give every one of her character's a unique personality that never changes, no matter how often they make appearances throughout the series.


Promising Forever made me feel like a little kid, I was so excited and wishing I was Summer the entire read. I want the love and romance Ashley Wilcox captures in her stories to bleed over into my reality. Poor boys, I suppose they're going to have to read Ashley Wilcox so they know what they're up against. I'm so glad I discovered The Forever series and that Ashley Wilcox changed my opinion on romance and love. If you're looking for a quick sweet read that will keep a smile on your face and make you excited about love then Promising Forever is a perfect match. Once again Ashley Wilcox gives us a wonderful romance that's impossible not to get lost in.
Amazon Link (.99cents)
Promising Forever (The Forever Series)
Add it to you TBR on Goodreads
As soon as its on B&N I'll add that link my pretties